November 10, 2022
18:00 - 20:00
How to Attend

remotely
Host City
Scottsdale Arizona, United States
Arizona World Usability Day Event
Online Event - All are Welcome!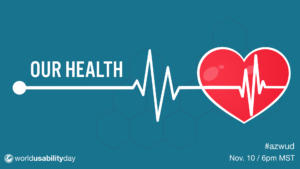 We welcome you to the 2022 Arizona WUD event! We have held aWorld Usability Day event in Arizona since WUD's debut in 2005.
Please join us for a keynote presentation, open discussion, and expert panel from 6-8 pm on Thursday, November 10, 2022.
Raffle items will be awarded at the end of the evening!
The event is hosted by UX in AZ. You can sign up for the event here.
__________________________
Agenda
Keynote Presentation – Russ Branaghan, President, Research Collective
Audience Discussion
UX in Healthcare Panel – 4 UX in Healthcare experts
Raffle Presentation
Speakers
Keynote Presentation – UX Research and Design in Healthcare – Overview and Case Study
Russell J. Branaghan, PhD
President of Research Collective, Tempe, AZ
Research Collective works on products in robotic surgery,cardiology, diagnostic imaging, chronic disease management, artificial organs, in vitro diagnostics, healthcare apps,
wearables, home health, and many others.
Healthcare is probably the most complex system in the world. Consider some of the statistics: First, in the US, healthcare employs 17 million people, representing about 7% of American adults, in at least 75 different roles. And, this doesn't even count office staff, technical support, or janitorial staff. Second, the medical device industry is projected to grow to 615 billion dollars per year by 2025. Third, more than 20 million Americans undergo surgery every year. Fourth, there are about 10,000 prescription drugs and biologicals and 300,000 over-the-counter medications available in the US. Finally, medical error, often exacerbated by poor design, kills about 251,000 Americans per year, making it the fourth leading cause of death behind heart disease, Covid, and cancer. A system this complex, chock full of people and advanced technology, really needs good design. For example, there are opportunities to improve the design of healthcare records, billing, medical/surgical products, hospital environments, work processes, communications, and websites to name just a few. So far, however, it has been underserved.
This presentation discusses these needs and opportunities in detail and then reviews a client project involving the redesign of an artificial heart. This project involved generative research, user interface design, instructional design, and evaluative usability testing resulting in a much improved, more convenient, more satisfying, and likely safer, product.
UX In Healthcare Panel Discussion
Moderator:
Theo Mandel, PhD
Theo is a well-knows UX consultant with over 20 years of experience in the field. He has organized World Usability Day events since the first WUD in 2004 and was the worldwide chairman for the WUD Healthcare theme in 2007.
Panelists:
Matt Lein, Creative Director, Banner Health
Mary Lane, Director of UX, Evoke Melt
Dan Bruner, Sr. Director of UX at Teladoc Health
Tiffany Leverenz, Manager, Human Factors and User Research, Intuitive
Sponsors
Our sponsors are graciously providing the drawing prizes for this event!
Event Leaders
Theo Mandel, PhD, UX Design & Research Consultant
Deborah Prewitt, Senior Lecturer, ASU
Tony Quiroz, Customer Experience Director, GoDaddy
Tim Cothron, Senior Research Analyst, Savvas Learning Company
Matthew Schafman, Sr Director of IDX, Neudesic, Founder of UX in AZ
Kassidy Breaux, Lecturer and UX Designer, ASU
Anastasia Diamond, Human Factors Scientist, Research Collective
World Usability Day Estonia 2022
World Usability Day 2022 Bamberg